Working by myself
As of February 2016, the owner Weezerkerm has become inactive and as the wiki community is gone, I have decided to try to adop the page so I can access more pages on the site and be able to accomidate peoples requests/complaints.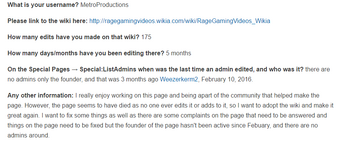 What I have been working on 
I have currently been fixing certain pages as well as adding others, There is a list below of what I have been working on.
Hollow's Dark Souls 3 playthrough
What I plan on doing 
If the adoption request is accepted, I plan on getting rid of some people in the "Extended Crew" category on the main page as there are people on there that should not be, as well as changing the name of the sire from RageGaming Wiki to The Crewdom Wiki as well as changing the theme of the wiki from red to something else. This page has slowly evolved from just Rage to people around him and has become more of the fanbase wiki of The Crew and I plan on making it like that, and I would appreciate any help/ suggestions
Ad blocker interference detected!
Wikia is a free-to-use site that makes money from advertising. We have a modified experience for viewers using ad blockers

Wikia is not accessible if you've made further modifications. Remove the custom ad blocker rule(s) and the page will load as expected.